Increasing The Effectiveness of Islamic Religious Education Learning in Building Students's Spiritual Intelligence
Keywords:
Effectiveness, Learning, Spritual Intelligence
Abstract
Effective Islamic Religious Education learning will motivate students to excel and have high spiritual values. With high spirituality, integrity will be built by involving inner unity and more dynamic social relations, as well as the ability of individuals to have a life orientation that is far into the future. This research is field research conducted at Madrasah Aliyah al-Khoiriyah Probolinggo. Data collection techniques were carried out through interviews, observation, and documentation. The research subjects included school principals, deputy heads of curriculum, deputy heads of student affairs, Islamic religious education teachers, and students. Data analysis techniques with data triangulation consist of data collection, data reduction, data presentation, and conclusion. The results of the study show that: First, the institution's efforts in building the spiritual intelligence of Madrasah Aliyah al-Khoiriyah Probolinggo students, namely applying time discipline in terms of Duha prayer activities and Teaching and Learning Activities (KBM); Second, increasing the learning of Islamic Religious Education (PAI) in building spiritual intelligence is carried out through inculcating Islamic values ​​and noble morals which are embodied in all learning activities and exemplary teachers in schools.
Downloads
Download data is not yet available.
References
Amalia, Umi Chaidaroh, H. A. (2018). Pengembangan Kecerdasan Spiritual Siswa Melalui Pendidikan Agama Islam. Journal of Education and Management Studies, 1(1), 15–20.
Ariyani, N., Saleh, K., & Hidayah, M. U. (2022). Hubungan Antara Kecerdasan Emosional dengan Kemampuan Menghafal Al- Qur ' an Juz 30 Peserta Didik di Madrasah Ibtidaiyah. Borneo Journal of Islamic Education, 2(1), 1–11.
Atika Fitriani, E. Y. (2018). Upaya Guru Pendidikan Agama Islam Dalam Menumbuhkan Kecerdasan Spiritual Siswa. Jurnal Pendidikan Islam, 6(August), 128.
Dodi, I. (2019). Menggagas Pendidikan Nilai dalam Sistem Pendidikan Nasional. Didaktika: Jurnal Kependidikan, 8(3), 109–122. https://jurnaldidaktika.org/contents/article/view/73
Fauziah, I. (2021). Penguatan Kecerdasan Spiritual Peserta Didik Melalui Pembelajaran Alquran Hadits Di Madrasah Ibtidaiyah. Jurnal Ilmiah Innovative, 8(1), 1–18.
Ghufron, H. M., Ali, M. M., & Abrori, M. S. (2023). UPAYA GURU AKIDAH AKHLAQ DALAM MENUMBUHKAN KECERDASAN SPIRITUAL SISWA MANURUL HIDAYAH AL AMIN INDRALOKA JAYA. 11(1), 71–88. https://doi.org/10.31942/pgrs.v11i1.8460
Golverdi, M. (2015). Spiritual Intelligence : Aspects , Components and Guidelines to Promote It. August.
Hidayat, T. (2019). Pembahasan Studi Kasus Sebagai Bagian Metodologi Penelitian. Research Gate, 13(1), 104–116.
Khadavi, M. J. (2023a). Development of Religious Culture in The School Community. Journal of Scientific Research, Education, and Technology (JSRET), 2(1), 94–100. https://doi.org/10.58526/jsret.v2i1.48
Khadavi, M. J. (2023b). Spiritual Mental Development Concept and the Implications for Students. Halaqa: Islamic Education Journal, 7(1). https://doi.org/10.21070/halaqa.v7i1.1624
Kurniadi, W., Arifin, Z., & Muratama, M. S. (2022). UPAYA GURU PENDIDIKAN AGAMA ISLAM DALAM MENINGKATKAN KECERDASAN SPIRITUAL SISWA. 1(2), 249–258.
Mardiah, M., Napratilora, M., Syahid, A., & Nur, S. (2022). Cara Guru Mengembangkan Kecerdasan Spiritual kepada Anak. Al-Liqo: Jurnal Pendidikan Islam, 7(1), 81–100. https://doi.org/10.46963/alliqo.v7i1.541
Maulana, I. (2020). PENGEMBANGAN KECERDASAN SPIRITUAL MELALUI MATA PELAJARAN PENDIDIKAN AGAMA ISLAM PADA PESERTA DIDIK MADRASAH ALIYAH. Jurnal Educatio FKIP UNMA, 6(2), 548–560. https://doi.org/10.31949/educatio.v6i2.594
Nizar, A. (2022). Pembinaan Kecerdasan Spiritual Siswa Dalam Pembelajaran Pendidikan Agama Islam. Jurnal Pendidikan Dan Konseling, 4, 1349–1358.
Peradila, S., & Chodijah, S. (2020). Bimbingan Agama Islam Dalam Mengembangkan Kecerdasan Spiritual Anak Usia Dini. WISDOM: Jurnal Pendidikan Anak Usia Dini, 1(2), 70–94. https://doi.org/10.21154/wisdom.v1i2.2376
Ratnasari, S. L., Supardi, S., & Nasrul, H. W. (2020). Kecerdasan Intelektual, Kecerdasan Emosional, Kecerdasan Spiritual, Dan Kecerdasan Linguistik Terhadap Kinerja Karyawan. Journal of Applied Business Administration, 4(2), 98–107. https://doi.org/10.30871/jaba.v4i2.1981
Shankar Srivastava, P. (2016). Spiritual intelligence: An overview. International Journal of Multidisciplinary Research and Development, 3(December), 224–227. https://www.researchgate.net/publication/321875385_Spiritual_intelligence_An_overview
Wiwik Dyah Ariyani, Iis Salsabila, Mubarok, Saripudin, D. A. N. (2022). PERAN PENDIDIKAN AGAMA ISLAM DALAM MENGEMBANGKAN KECERDASAN SPIRITUAL. 2(2).
Zohar, D., & M. (2007). Spiritual Quotient. Pustaka Mizan.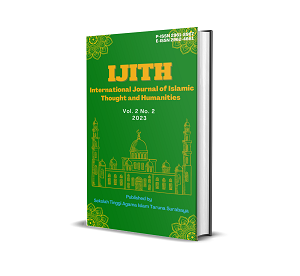 Downloads
How to Cite
Khadavi, J., Nizar , A., & Syahri, A. (2023). Increasing The Effectiveness of Islamic Religious Education Learning in Building Students's Spiritual Intelligence. International Journal of Islamic Thought and Humanities, 2(2), 201–209. https://doi.org/10.54298/ijith.v2i2.104
License
Copyright (c) 2023 Jadid Khadavi, Ahmat Nizar, Akhmad Syahri
This work is licensed under a Creative Commons Attribution-ShareAlike 4.0 International License.
Authors who publish with this journal agree to the following terms:
Authors retain copyright and grant the journal right of first publication with the work simultaneously licensed under a Creative Commons Attribution-ShareAlike that allows others to share the work with an acknowledgement of the work's authorship and initial publication in this journal.
Authors are able to enter into separate, additional contractual arrangements for the non-exclusive distribution of the journal's published version of the work (e.g., post it to an institutional repository or publish it in a book), with an acknowledgement of its initial publication in this journal.
Authors are permitted and encouraged to post their work online (e.g., in institutional repositories or on their website) prior to and during the submission process, as it can lead to productive exchanges, as well as earlier and greater citation of published work (See The Effect of Open Access).