Early Child Education Based on Islamic Psychology
Keywords:
Early Childhood Education, Islamic, Psychology
Abstract
This study aims to explain early childhood education based on Islamic psychology, a study approach to understanding child psychology and behavior based on monotheism through the integration of science and faith. Islamic psychology is a form of psychology based on the description of humans, especially in Islam, who have different uniqueness. The formulation of the problem in this research is how early childhood Islamic education tells Islamic psychology. This research is a study that uses literature sources to obtain research data. This study's results provide a new view that is different from contemporary western psychology. Islamic psychology emphasizes the need to keep the child's soul closer to Allah, the creator. A person whose soul is open will be wiser, more compassionate, and more understanding than those whose soul is closed. The soul referred to here is the inner spiritual nature, not the soul in the physical sense. The soul is the source of inner light, inspiration, creativity, and compassion. The concept of understanding that individual consists of some unique behavior and spirit, and these factors are closely related and essential for the success of the learning process.
Downloads
Download data is not yet available.
References
Adella, Nurhayati, M. A. (n.d.). Development of Just in Time Teaching (JITT) Based on a Scientific Approach on Mushroom Materials to Improve Analytical Thinking Ability of Class X Senior High School Students Adella1,. Jurnal Ilmu Komputer, Ekonomi Dan Manajemen (JIKEM), 2478–2482.
Agnieszka Bożek, & Paweł F. Nowak, M. B. (2020). The Relationship Between Spirituality , Health-Related Behavior , and Psychological Well-Being. 11(August). https://doi.org/10.3389/fpsyg.2020.01997
Alfarisi, M. A. (2003). Psychotherapy for Children and Adolescents. Annual Review of Psychology, 54(1), 253–276. https://doi.org/10.1146/annurev.psych.54.101601.145105
Awalya. (2012). BENEFITS OF EARLY CHILDHOOD EDUCATION FOR PERSONAL DEVELOPMENT AND CHILDREN SOCIAL. IJECES, 1(2), 1–8.
Bhat, A. M. (2016). Human Psychology ( fitrah ) from Islamic Perspective. I n t e Rna t Iona l Jou Rna l o f Nu San Ta Ra I s Lam, 4(2), 61–74.
Eka Sapti Cahyaningrum, Sudaryanti, N. A. P. (2017). PENGEMBANGAN NILAI-NILAI KARAKTER ANAK USIA DINI MELALUI PEMBIASAAN DAN KETELADANAN Eka. 6(2), 203–213.
Fauzi, A., Pradipta, I. W., & Java, E. (2018). RESEARCH METHODS AND DATA ANALYSIS TECHNIQUES IN EDUCATION ARTICLES PUBLISHED BY INDONESIAN BIOLOGY EDUCATIONAL. JPBI (JURNAL PENDIDIKAN BIOLOGI INDONESIA) Indonesian Journal of Biology Education Vol., 4(2), 123–134.
Husin, B., & Zabidi, I. (2020). The Meaning And Characteristics Of Islam In The Qur ' an. International Journal of Psychosocial Rehabilitation, 24(1), 1–12.
Korteling, J. E. (Hans., van de Boer-Visschedijk, G. C., Blankendaal, R. A. M., Boonekamp, R. C., & Eikelboom, A. R. (2021). Human- versus Artificial Intelligence. Frontiers in Artificial Intelligence, 4(March), 1–13. https://doi.org/10.3389/frai.2021.622364
Louise C. Hawkley, Ph.D., John T. Cacioppo, P. D. (2010). Loneliness Matters: A Theoretical and Empirical Review of Consequences and Mechanisms. 40(2), 4–6. https://doi.org/10.1007/s12160-010-9210-8.Loneliness
Mirnawati, & , Suarni, S. (2022). The Scientific Principles of Islamic Education. Didaktika, 11(3), 117–125.
Munna, A. S., & Kalam, A. (2021). Teaching and learning process to enhance teaching effectiveness : a literature review. International Journal of Humanities and Innovation (IJHI), 4(1), 1–4.
Nietlong, J., & Kato, G. (2021). Aquinas on the Soul : Whether it is a Body , whether It Is Immortal , and given these Why It Is Fitting For the Body and Why It Is Necessary . Pinisi Journal, 1(3), 6–10.
Oktari, S. W., Atmaja, H. T., & Rc, A. R. (2020). The Interaction of Learning Model and Learning Style in Improving Students Learning Outcomes. Journal of Primary Education, 9(19), 206–216.
Puspitasari, E., Tri, A., & Dina, R. (2022). Al-MISBAH ( Jurnal Islamic Studies ) Syed Muhammad Naquib al-Attas ' Concept of Islamizing Science and its Relevance to Islamic Education. Al-MISBAH, 10(2), 91–108.
Rassool, G. H. (2021). Islamic Psychology: Human Behaviour and Experience from an Islamic Perspective. Routledge.
Reber, E., Gomes, F., Vasiloglou, M. F., & Schuetz, P. (2019). Nutritional Risk Screening and Assessment. Clinical Medicine Review, 8(1), 1–19.
Rosmini, Sitti Riadil Janna, M. T. A. (2022). INTERNALIZATION OF RELIGIOUS MODERATION PRINCIPLES IN ISLAMIC. Lentera Pendidikan : Jurnal Ilmu Tarbiyah Dan Keguruan, 25(36), 204–217.
Sari, N. (2013). THE IMPORTANCE OF TEACHING MORAL VALUES TO THE STUDENTS. Journal of English and Education 2013, 1(1), 154–162.
Suardana, I. P. E. (2022). THE ANALYSIS OF MAXIMS FOUND IN THE NOVEL "NEVER GO BACK." 1(2), 11–17.
Sumantri, M. S. (2015). Modul Hakikat Manusia dan Pendidikan. 1–43.
SYAFE'I, I. (2015). TUJUAN PENDIDIKAN ISLAM IMAM. 6(November), 1–16.
Utaminingsih, S., Utomo, S., & Zamroni, E. (2017). Strengthening of Indonesian Islamic Character Though Islamic Education Management Based of Soft Skills. Addin, 11(1), 215. https://doi.org/10.21043/addin.v11i1.2033
Widiawati, N. (2021). Actuality and happiness of the soul: An Islamic epistemological perspective. INSPIRA: Indonesian Journal of Psychological Research, 2(2), 81–93. https://doi.org/10.32505/inspira.v2i2.3430
Wilson, S. M., & Peterson, P. L. (2006). Theories of Learning and Teaching What Do They Mean for Educators ? Theories of Learning and Teaching (Issue July).
Zaki, M. (2015). Pendidikan Agama Islam Di Berbasis Multikulturalisme. ZakiNur El-Islam, 2(1), 41–54.
Zubaidillah, M. H. (2018). CONCEPT OF ISLAMIC EDUCATION IN THE QUR ' AN. July, 1–13.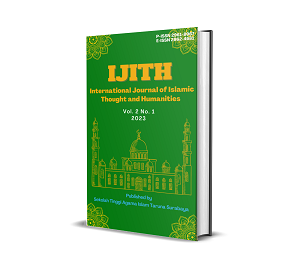 Downloads
How to Cite
Muhammad, D. H., & Desari, A. E. (2023). Early Child Education Based on Islamic Psychology. International Journal of Islamic Thought and Humanities, 2(1), 12–20. https://doi.org/10.54298/ijith.v2i1.51
License
Copyright (c) 2023 Devy Habibi Muhammad, Agustiriani Eka Desari
This work is licensed under a Creative Commons Attribution-ShareAlike 4.0 International License.
Authors who publish with this journal agree to the following terms:
Authors retain copyright and grant the journal right of first publication with the work simultaneously licensed under a Creative Commons Attribution-ShareAlike 4.0 that allows others to share the work with an acknowledgement of the work's authorship and initial publication in this journal.
Authors are able to enter into separate, additional contractual arrangements for the non-exclusive distribution of the journal's published version of the work (e.g., post it to an institutional repository or publish it in a book), with an acknowledgement of its initial publication in this journal.
Authors are permitted and encouraged to post their work online (e.g., in institutional repositories or on their website) prior to and during the submission process, as it can lead to productive exchanges, as well as earlier and greater citation of published work (See The Effect of Open Access).