Second Puberty in Marriage Islamic Family Law Perspective
Keywords:
second puberty, marriage, Islamic law, family, happy family
Abstract
Marriage is part of Islamic orders to create a harmonious, prosperous, happy family. Marriage sometimes has a lot of ups and downs, especially at the age of 40, physical changes, self-confidence begin to change, and demands are different. When husband and wife do not understand the changes that occur can be fatal to the marriage. The second puberty is oriented towards fulfilling psychological needs, affection, and attention from the partner. The aim of this research is to find out the second puberty in marriage from the perspective of Islamic law. The method used is library research with a constant analysis approach. Research findings, the second puberty can occur when entering the age range of 40 years. There is a change in behavior. Control of the second puberty: Straighten the intention that marriage is part of the perfection of worship to Allah SWT. Growing affectionate love, love in the intimacy of husband and wife is always guarded with gentle and pleasant words. Realization of religious values ​​in the family, protecting the family from everything that is prohibited by Islam. Learning to play a new role in line with physical and psychological changes that must be in tune.
Downloads
Download data is not yet available.
References
Afriadi, R., & Yuni, R. (2018). IMPLEMENTASI PENDIDIKAN KARAKTER PADA REMAJA USIA SEKOLAHDITINJAU DARI TEORI PENDIDIKAN SEKS. JURNAL BIOLOKUS, 1(1), 23. https://doi.org/10.30821/biolokus.v1i1.307
Ahmad Zacky El-Syafa. (2015). Tadabbur Cinta. Genta Grub Production.
Al-Ghurab, M. M. (2015). Semesta CInta Ibnu Arabi (Taufiq Hakim (ed.); Pertama). Ides Pablishing.
Arifiani, F. (2021). Ketahanan Keluarga Perspektif Maslahah Mursalah dan Hukum Perkawinan di Indonesia. SALAM: Jurnal Sosial Dan Budaya Syar-I, 8(2), 533–554. https://doi.org/10.15408/SJSBS.V8I2.20213
Beddu, M. J. (2021). Urgency of Mediator (Mediation) in Resolving Divorce Cases in Religious Courts. Turkish Journal of Computer and Mathematics Education (TURCOMAT), 12(4), 1455–1460. https://doi.org/: https://doi.org/10.17762/turcomat.v12i4.1383
Deswita. (2013). Psikologi Perkembangan. Remaja Rosda Karya.
Hamka. (2015). Tafsir Al-Azhar (IX). Gema Insani Press.
Jalaluddin. (2015). Psikologi Agama. In RajaGrafindo Persada. Rajawali.
Kemenag RI. (2013). Alqur'an dan Terjemah. APP Indah Kiat.
M. Darwis Hude. (2006). Emosi Penjelajahan Religio Psikologis Tentang Emosi Manusia di Dalam Alqur'an. Erlangga.
Mapiare, A. (2018). Psikologi Orang Dewasa. Usaha Nasional.
Mulyana, Y. (2017). KONSEP MAHABBAH IMAM AL-TUSTARI (200-283 H.). Syifa Al-Qulub, 1(2), 1–10. https://doi.org/10.15575/saq.v1i2.1427
Murdan, M. (2018). Membaca Perkawinan Masyarakat Islam Sasak Dari Perspektif Interlegalitas Hukum. Al-Ahwal: Jurnal Hukum Keluarga Islam, 10(2), 115. https://doi.org/10.14421/ahwal.2017.10201
Nasution, K. (2016). MEMBANGUN KELUARGA BAHAGIA (SMART). Al-Ahwal: Jurnal Hukum Keluarga Islam, 1(1), 1–16.
Nurliana. (2019a). Transformasi Masyarakat Islam Era Revolusi Industri 4.0. Madania, Volume 9(No 2), https://doi.org/http://dx.doi.org/10.24014/jiik.v9i2.8389
Nurliana, N. (2019b). Konstruksi Pernikahan Samara Perspektif Buya Hamka Nurliana STAI Diniyah Pekanbaru. Jurnal Al-Himayah, 3(1), 53–66.
Nurliana, N. (2019c). Formulasi Keluarga Era Revolusi Industri 4.0 Perspektif Hukum Islam. In Jurnal Al Himayah (Vol. 3, Issue 2).
Nurliana, N. (2022). Pernikahan dalam Islam Antara Ibadah dan Kesehatan Menuju Keselamatan. Al-Mutharahah: Jurnal Penelitian Dan Kajian Sosial Keagamaan, 19(1), 39–49. https://doi.org/10.46781/al-mutharahah.v19i1.397
Nurliana, N., & Ulya, M. (2021). Pendidikan Anak Perspektif Psikologi. Al-Liqo: Jurnal Pendidikan Islam, 6(1), 56–67. https://doi.org/10.46963/ALLIQO.V6I1.313
Perpres. (2015). PP No 87 Tentang Keluarga Bahagia. Presiden Republik Indonesia, 2014. https://doi.org/.1037//0033-2909.I26.1.78
Sukiyat, Miftah Ulya, Nurliana, Abd. Ghofur, E. H. (2022). Analysis of the Maudhu'i Tafsir: Mahabbah's Orientation in the Light of Al-Qur'an. Ushuluddin, 30(2), 89–178. https://doi.org/10.24014/Jush.v30i2.
Ulya, M. N. (2021). PERNIKAHAN DALAM AL- QUR ' AN ( Telaah Kritis Pernikahan Endogami dan Poligami ). Journal IKLILA: Jurnal Studi Islam Dan Sosial, 4(1), 91–110.
Yunus Shamad, M., & Tinggi Agama Islam Negeri Parepare, S. (2017). Jurnal Hukum Pernikahan Dalam Islam. Istiqra` : Jurnal Pendidikan Dan Pemikiran Islam, 5(1).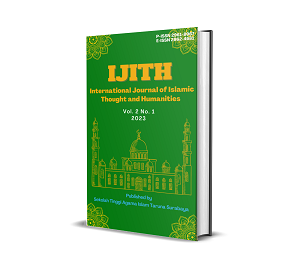 Downloads
How to Cite
Nurliana, N., Ulya, M., Salmah, S., & Nurhasanah, N. (2023). Second Puberty in Marriage Islamic Family Law Perspective. International Journal of Islamic Thought and Humanities, 2(1), 01–11. https://doi.org/10.54298/ijith.v2i1.55
License
Copyright (c) 2023 Nurliana Nurliana, Miftah Ulya, Siti Salmah, Nurhasanah Nurhasanah
This work is licensed under a Creative Commons Attribution-ShareAlike 4.0 International License.
Authors who publish with this journal agree to the following terms:
Authors retain copyright and grant the journal right of first publication with the work simultaneously licensed under a Creative Commons Attribution-ShareAlike that allows others to share the work with an acknowledgement of the work's authorship and initial publication in this journal.
Authors are able to enter into separate, additional contractual arrangements for the non-exclusive distribution of the journal's published version of the work (e.g., post it to an institutional repository or publish it in a book), with an acknowledgement of its initial publication in this journal.
Authors are permitted and encouraged to post their work online (e.g., in institutional repositories or on their website) prior to and during the submission process, as it can lead to productive exchanges, as well as earlier and greater citation of published work (See The Effect of Open Access).