Abdullah Saeed's Contextual Restructures of The Qur'an
Keywords:
Abdullah Saeed, contextual, Restructures, the Qur'an,
Abstract
This paper tries to explain Abdullah Saeed's ideas with a new approach to interpreting the Qur'an, namely an approach called the contextualist approach. In Abdullah Saeed's perspective, there has been a gap between the text that has been understood literally by most scholars and the socio-historical context of the Qur'an at the time the revelation was revealed and the contemporary needs of Muslims today. With the hermeneutic interpretation model, he proposes four stages in his interpretation of the Qur'an, namely: meeting the world of the text, conducting critical analysis, finding the meaning of the text for its first recipient, and determining the meaning and application of the text for the present. Abdullah Saeed's idea is at least an alternative solution to address the contemporary challenges faced by Muslims today.
Downloads
Download data is not yet available.
References
Ahmad Zaini. (2014). Asbbab an-Nuzul dan Urgensinya dalam memahami al-Quran. Hermeunetik, 8(1), 1–20.
Amir, A. M., & Hamzah, G. (2019). Dinamika dan Terapan Metodologi Tafsir Kontekstual (Kajian Hermeneutika Ma'na-cum-Maghza terhadap Pernafsiran QS. Al-Ma'un/107). Al-Izzah: Jurnal Hasil-Hasil Penelitian, 14(1), 1–17. http://ejournal.iainkendari.ac.id/al-izzah/article/view/1177
Harahap, Y. M. S. (2022). Educational Interaction The Story of the Prophet Adam ' Alaihi al- Salām In the Qur ' an Interaksi Edukatif Kisah Nabi Ādam ' Alaihi al - Salām Dalam al- Qur ' ān. Formosa Journal of Multidisciplinary Research (FJMR), 1(3), 785–802.
Hasbiyallah, M. (2018). Paradigma Tafsir Kontekstual: Upaya Membumikan Nilai-Nilai Al-Qur'an. Al-Dzikra: Jurnal Studi Ilmu Al-Qur'an Dan Al-Hadits, 12(1). https://doi.org/10.24042/al-dzikra.v12i1.2924
Hs, M. A., & Parninsih, I. (2020). Verbalisasi Al- Qur'an : Metode Tafsir Kontekstual Berbasis Kelisanan Al-Qur'an. Substantia: Jurnal Ilmu-Ilmu Ushuluddin, 22(2), 120–134.
Iffah, L. (2015). Interpretasi Kontekstual Abdullah Saeed. Hermeneutik, 9(1), 65–90.
Ikhsan, M. (2011). Tafsir Kontekstual Al-Qur'an (Telaah Atas Metodologi Tafsir Fazlur Rahman). Jurnal Shautut Tarbiyah, 17(2), 99–120.
Jayana, T. A. (2019). Model Interpretasi Alquran dalam Pendekatan Tafsir Kontekstual Abdullah Saeed. AL QUDS : Jurnal Studi Alquran Dan Hadis, 3(1), 37. https://doi.org/10.29240/alquds.v3i1.612
Khusnul Auliyah, Suwarno, Uswatun Chasanah, R. A. (2021). Student Centered Learning In Surah Thaha 17-18 And It ' s Implication In Islamic Boarding School Education. Budapest International Research and Critics Institute-Journal (BIRCI-Journal), 02, 4887–4899.
Kusroni, M. Z. (2021). REVISITING METHODOLOGY OF QUR'ANIC INTERPRETATION: A THEMATIC CONTEXTUAL APPROACH TO THE QUR'AN. Mutawatir: Jurnal Keilmuan Tafsir Hadith, 11(1), 177–202.
Lestari, L. (2017). KONTEKSTUAL TERHADAP AYAT-AYAT ETHICO-LEGAL DALAM ALQURAN. Urnal At-Tibyan, II(1), 20–39.
Muliadi, A. (2021). PENAFSIRAN AL-QUR'AN DI ERA MODERN:: Studi Model Penafsiran Kontekstual Abdullah Saeed. Maqosid: Jurnal Studi Keislaman Dan Hukum …, IX(02), 45–60. http://jurnal.iaihnwpancor.ac.id/index.php/maqosid/article/view/518
Oki Rahadianto Sutopo. (2019). Jurnal Pemikiran Sosiologi Volume 6 No. 1, Januari 2019. Jurnal Pemikiran Sosiologi, 6(1), 1–17.
Saeed, A. (2006a). Interpreting the Qur 'an Towards a Contemporary Aprproach. Routledge Taylor & Fancis Group.
Saeed, A. (2006b). Islamic thought: An introduction. Islamic Thought: An Introduction, 1–204. https://doi.org/10.4324/9780203015247
Suaidi, P. (2016). Asbabun Nuzul : Pengertian, Macam-Macam, Redaksi dan Urgensi. Almufida, 1(1), 110–111.
Suwarno. (2020). Studi Agama Islam Melalui Pendekatan Interdisipliner. E-Jurnal.Unisda.Ac.Id, 2(3), 22–2012. http://www.e-jurnal.unisda.ac.id/index.php/dar/article/view/2178
Thayyibi, M. I. dan H. N. (2022). TAFSIR KONTEKSTUAL DAN IMPLIKASINYA DALAM PENDIDIKAN. Al-Nahdlah: Jurnal Pendidikan Islam, Volume 1, Nomor 3, April 2022, 1(April), 201–212.
Yasin, H. (2020). Mengenal Metode Penafsiran Al Quran. Tahdzib Al-Akhlaq: Jurnal Pendidikan Islam, 3(1), 34–51. https://doi.org/10.34005/tahdzib.v3i1.826
Zed, M. (2004). Metode Penelitian Kepustakaan. Yayasan Obor Indonesia.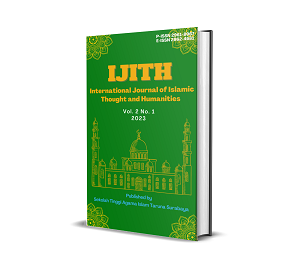 Downloads
How to Cite
Hatta, M. (2023). Abdullah Saeed's Contextual Restructures of The Qur'an. International Journal of Islamic Thought and Humanities, 2(1), 47–55. https://doi.org/10.54298/ijith.v2i1.56
License
Copyright (c) 2023 Muhammad Hatta
This work is licensed under a Creative Commons Attribution-ShareAlike 4.0 International License.
Authors who publish with this journal agree to the following terms:
Authors retain copyright and grant the journal right of first publication with the work simultaneously licensed under a Creative Commons Attribution-ShareAlike that allows others to share the work with an acknowledgement of the work's authorship and initial publication in this journal.
Authors are able to enter into separate, additional contractual arrangements for the non-exclusive distribution of the journal's published version of the work (e.g., post it to an institutional repository or publish it in a book), with an acknowledgement of its initial publication in this journal.
Authors are permitted and encouraged to post their work online (e.g., in institutional repositories or on their website) prior to and during the submission process, as it can lead to productive exchanges, as well as earlier and greater citation of published work (See The Effect of Open Access).