The Phenomenon of E-Dakwah in the New Normal Era: Digital Literacy of Virtual Da'i in Da'wah Activities
Keywords:
virtual, preacher, e-da'wah, digital literacy, new normal
Abstract
The emergence of the new normal era brought many changes in various aspects of life, including da'wah activities. Adaptation of the implementation of da'wah online or called e-da'wah is an innovation that can be done so that da'wah activities can continue to run. The phenomenon of e-da'wah in the new normal era is an important and interesting research to study. This study aims to analyze the digital literacy experience of virtual preachers in carrying out da'wah activities online in the new normal era. The research method used is qualitative with a phenomenological approach to explore the experience of digital literacy preachers, especially those related to communication and collaboration elements. Data analysis was carried out by reducing steps, presenting data and drawing conclusions. The results showed that the ability of the virtual da'i in Jintap Ponorogo Village in carrying out da'wah in the new normal era was at the basic level for use skills and communicative abilities, while critical understanding was at the medium level. This research is expected to contribute to optimizing the implementation of e-da'wah in the new normal era, especially by increasing digital literacy for virtual preachers in Jintap Village, Ponorogo.
Downloads
Download data is not yet available.
References
Akhmad, R. (2009). E-dakwah Dalam Pesantren Virtual. Millah, IX(1), 35–50.
Anshori, I. (2018). Melacak State Of The Art Fenomenologi Dalam Kajian Ilmu-Ilmu Sosial. Halaqa: Islamic Education Journa, 2(1), 165–181.
Aspers, P. (2009). Empirical Phenomenology: A Qualitative research Approach (The Cologne Seminars). Indo-Pasific Journal of Phenomenology, 9(2), 1–12.
Bachri, B. S. (2010). Meyakinkan Validitas Data Melalui Triangulasi Pada Penelitian Kualitatif. Jurnal Teknologi Pendidikan, 10(1), 46–62.
Borham, A. H. (2018). Media Baharu dan Impak Terhadap Dakwah. Jurnal Sains Humanika, 10(3–4), 51–60.
Buchanan, D. R. (1998). Beyond positivism: humanistic perspectives on theory and research in health education. Health Education Reserach, 13(3), 439–450.
Commission, F. the E., & Unit, D. G. I. S. and M. M. L. (2009). Study on Assessment Criteria for Media Literacy Levels. In Framework.
Craig, R. T., & Muller, H. L. (2007). Theorizing communication : Readings across traditions. Sage.
Deetz, & S. A. (1992). Democracy in an age of corporate colonization: Developments in communication and the politics of everyday life. SUNY Press.
DO, Roslyn L.Gerwin; MD, Kristopher Kaliebe; DO, M. D. (2018). The Interplay Between Digital Media Use and Development. Child and Adolescent Psychiatric Clinics of North America, 27(2), 345–355. https://doi.org/https://doi.org/10.1016/j.chc.2017.11.002
Griffin, M; Ledbetter, Andrew; Sparks, G. (2019). The First Look Communication Theory (Tenth Edition). McGraw-Hill Education.
Hasbiansyah, O. (2008). Pendekatan Fenmenologi: Pengantar Praktik Penelitian dalam Ilmu Sosial dan Komunikasi. Mediator, 9(1), 163–180.
Irawan, Muhammad Zudhy; Rizki, Muhammad; Joewono, Tri Basuki; Belgiawan, P. F. (2020). Exploring the intention of out-of-home activities participation during new normal conditions in Indonesian cities. Transportation Research Interdisciplinary Perspectives, 8(100237), 1–6.
JISC. (2017). Developing digital literacies | Jisc. Jisc.
Kuswarno, E. (2007). TRADISI FENOMENOLOGI PADA PENELITIAN KOMUNIKASI KUALITATIF Sebuah Pedoman Penelitian dari Pengalaman Penelitian. Sosiohumaniora, 9(2), 161–176.
List, A. (2019). Defining digital literacy development: An examination of pre-service teachers' beliefs. Computers & Education, 138, 146–158.
Littlejohn, Stephen w; Foss, Karen A; Oetzel, J. G. (2017). The Theories of Human Communications (Eleventh Edition) (Eleventh). Wafeland Press, Inc.
Mohamad, Abu Darda; Nasir Badlihisham Mohd; Yusof, K. M. et all. (2014). Da'wah Resurgence And Political Islam In Malaysia. Procedia - Social and Behavioral Sciences, 140, 361–366.
Mulyanto, A. (2006). E-Dakwah Sebagai Alternatif Media Dakwah. Kaunia, 2(1), 1–17.
Omar, F. I., Hassan, N. A., & Sallehuddin, I. S. (2015). Role of Social Media in Disseminating Dakwah (Peranan Media Sosial dalam Penyebaran Dakwah). In Islamic perspectives relating to business, arts, culture and communication (pp. 43–55). Springer.
Polizzi, G. (2020). Digital literacy and the national curriculum for England: Learning from how the experts engage with and evaluate online content. Computers & Education, 152, 1–13.
Putra, S. D., Eldiana, T. F., & Aryani, D. (2020). MODEL PENGEMBANGAN APLIKASI MOBILE E-DAKWAH DI MASA PANDEMI COVID-19 DENGAN METODE PROTOTYPING. Journal of Information System, Informatics and Computing, 4(1), 116–121.
Sadly, E. (2018). Manajemen Dakwah Media Sosial : Telaah Terhadap Perkembangan Metode Dakwah Islam. Riset Manajemen & Bisnis (JRMB), 3(2), 44–50.
Schwandt, T. A. (1986). Qualitative data analysis: A sourcebook of new methods: by Mathew B. Miles and A. Michael Huberman Beverly Hills, CA: Sage, 1984. 263 pages. Evaluation and Program Planning, 9(2), 184–187.
Springborg, P. (2007). Phenomenology and the social sciences. Australian Journal of Political Science, 10(1), 95–100.
Stefany, Stella; Nurbani, B. (2017). Literasi Digital dan Pembukaan Diri: Studi Korelasi Penggunaan Media Sosial Pada Pelajar Remaja di Kota Medan. Sosioglobal, Jurnal Pemikiran Dan Penelitian Sosiologi, 2(1), 10–31.
Sugiyono. (2006). Metode Penelitian Kuantitatif, Kualitatif dan R & D.Bandung:Alfabeta. Metode Penelitian Kuantitatif, Kualitatif Dan R & D.Bandung:Alfabeta.
Usman, F. (2016). Efektivitas Penggunaan Media Online Sebagai Sarana Dakwah. Jurnal Ekonomi Dan Dakwah Islam (Al-Tsiqoh), 1(1), 1–8.
van Deursen, A. J. A. M., Helsper, E. J., & Eynon, R. (2016). Development and validation of the Internet Skills Scale (ISS). Information, Communication & Society, 19(6), 804–823.
Yoga S, S. (2015). Dakwah di Internet: Konsep Ideal, Kondisi Objektif, dan Prospeknya. Jurnal Al -Bayan, 22(31), 56–70.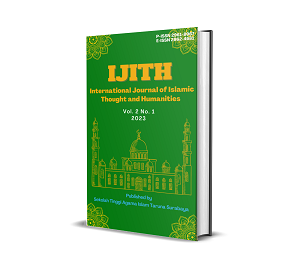 Downloads
How to Cite
Setyaningsih, R. (2023). The Phenomenon of E-Dakwah in the New Normal Era: Digital Literacy of Virtual Da'i in Da'wah Activities. International Journal of Islamic Thought and Humanities, 2(1), 65–75. https://doi.org/10.54298/ijith.v2i1.60
License
Copyright (c) 2023 Rila Setyaningsih
This work is licensed under a Creative Commons Attribution-ShareAlike 4.0 International License.
Authors who publish with this journal agree to the following terms:
Authors retain copyright and grant the journal right of first publication with the work simultaneously licensed under a Creative Commons Attribution-ShareAlike 4.0 that allows others to share the work with an acknowledgement of the work's authorship and initial publication in this journal.
Authors are able to enter into separate, additional contractual arrangements for the non-exclusive distribution of the journal's published version of the work (e.g., post it to an institutional repository or publish it in a book), with an acknowledgement of its initial publication in this journal.
Authors are permitted and encouraged to post their work online (e.g., in institutional repositories or on their website) prior to and during the submission process, as it can lead to productive exchanges, as well as earlier and greater citation of published work (See The Effect of Open Access).