The Role of Islamic Financial Management in Trading Transactions at the Srimanunan Sampang Market
Keywords:
Islamic Financial Management, Trade and Market
Abstract
Trading transactions carried out in traditional markets like the Srimanunan Sampang market categorized as according to its type including traditional markets. The market is a meeting place for sellers (traders) and buyers by conducting sales and purchase transactions. This research method uses a qualitative approach, which is based on interview scripts, notes, fields, memos, personal documents and other official documents. This type of research uses descriptive qualitative, the data taken is primary and secondary data. While the data collection techniques, namely in the form of observation, interviews, and documentation methods, the analysis consists of three streams of activities that occur simultaneously, namely: data reduction, data presentation, drawing conclusions or verification. If reviewed from in terms of the practice of trading transactions in the Srimangunan market does not indicate a method or strategy so that it becomes a sustainable transaction in the long term because of the lack of knowledge in transacting in the market. Therefore according to the results of this study indicate the weakness of the management system in selling so that if analyzed based on the role of Islamic Financial Management starting from the acquisition of funds, to the management of funds will find a new breakthrough in transactions.
Downloads
Download data is not yet available.
References
Abdul Aziz, AZ (2010). Sharia investment management.
Agus S. Irfani, 2020, Financial and Business Management, Jakarta: PT Gramedia
Azizaturrohmah, SN, & Mawardi, I. (2014). Understanding of Trade Ethics for Muslim Traders in Wonokromo Market, Surabaya (Case Study of Fruit Traders). Journal of Islamic Economics Theory and Applied , 1 (4), 278-288.
Bungin, B. (2007). Qualitative research: communications, economics, public policy, and other social sciences (Vol. 2). golden.
Hayati, I. (2019). Strengthening Islamic Financial Management for Umkm Using the Door To Door Method in Kotasan Village. Ihtiyath: Journal of Islamic Financial Management , 3 (2).
Husen Sobana, HD (2018). Sharia Financial Management.
Miles, MB, & Huberman, AM (1992). Qualitative data analysis Jakarta: University of Indonesia.
Moleong, LJ (2021). Qualitative research methodology . PT Juvenile Rosdakarya.
Najmudin, N. (2011). Modern Syar'iyyah Financial Management and Accounting.
Nawatmi, S. (2010). Business ethics in an Islamic perspective. Economic Focus , 9 (1), 24402.
Saleh, C., Islamy, MI, Zauhar, S., & Supriyono, B. (2013). Apparatus Resource Competency Development . Brawijaya Press University.
SARI, FL (2022). The Role of Traditional Markets in Improving the Economy of the People of Kabun Rokan Hulu Village in View of Sharia Economics (Doctoral dissertation, SULTAN SYARIF KASIM RIAU ISLAMIC UNIVERSITY).
SCP, DI, & Widiyatmoko, A. (2020). Traditional Market . Alprine.
Sugiyono, MPPPK (2007). Qualitative and R&D, Bandung: Alfabeta, 2010. Sugiyono, Quantitative Qualitative Research Methods and R&D Bandung: Alfabeta.
Zamzam, HF, & Aravik, H. (2020). Islamic Business Ethics The Art of Doing Business Blessing. Deepublish.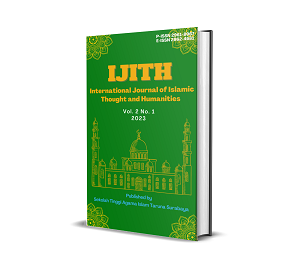 Downloads
How to Cite
Mawardi, I., & Toyyibi, A. M. (2023). The Role of Islamic Financial Management in Trading Transactions at the Srimanunan Sampang Market. International Journal of Islamic Thought and Humanities, 2(1), 40–46. https://doi.org/10.54298/ijith.v2i1.53
License
Copyright (c) 2023 Imam Mawardi, Abdul Majid Toyyibi
This work is licensed under a Creative Commons Attribution-ShareAlike 4.0 International License.
Authors who publish with this journal agree to the following terms:
Authors retain copyright and grant the journal right of first publication with the work simultaneously licensed under a Creative Commons Attribution-ShareAlike 4.0 that allows others to share the work with an acknowledgement of the work's authorship and initial publication in this journal.
Authors are able to enter into separate, additional contractual arrangements for the non-exclusive distribution of the journal's published version of the work (e.g., post it to an institutional repository or publish it in a book), with an acknowledgement of its initial publication in this journal.
Authors are permitted and encouraged to post their work online (e.g., in institutional repositories or on their website) prior to and during the submission process, as it can lead to productive exchanges, as well as earlier and greater citation of published work (See The Effect of Open Access).