Pemahaman Masyarakat Sadar Hukum Membayar Zakat Hasil Usaha
Keywords:
Understanding, Legal Awareness, Zakat Results of Business
Abstract
which is a concern for the weak. Zakat is paid by a muzakki given to the mustahik. In this study, it appears that the understanding of people of Lengayang District only understands the zakat fitrah that they pay during the fasting month. For the measure of payment, they only estimate it. In the efforts that must be made so that people's understanding of the obligation of zakat can be achieved through coaching muzakki and mustahiq, of course, there is good cooperation between all parties involved, namely the community itself, the Zakat Collection Unit, village officials, religious scholars, and religious extension workers are no exception. Islam. The implementation of zakat in Lengayang District is marked by the presence of supporting and inhibiting factors as well as efforts to build public awareness of paying zakat. This is inseparable from the role of the Lengayang District Office of Religious Affairs under the auspices of the Ministry of Religion as Amil Zakat Trustees who have carried out program development by establishing a zakat consulting institution in order to increase awareness of zakat for the community.
Keywords:  Understanding, Legal Awareness, Zakat Results of Business.
References
Abdullah bin Muhammad bin ahmad at-thayyar, fikih ibadah, (jawa tengah: media zikir, 2010)
Ahmad Syafiq, Prospek Zakat Dalam Perekonomian Modern, Jurnal Zakat Dan Wakaf, ZISWAF, Vol. 1, No. 1, Juni 2014
Ahmad Mifdol Muthohar, Preferensi Masyarakat Terhadap Lembaga Zakat Dan Bentuk-Bentuk Pemberdayaan Dana Zakat, Inferensi, Jurnal Penelitian Social Keagamaan, Vol. 10, No 2, Desember 2016
Arif wibowo, distribusi zakat dalam bentuk penyertaan modal bergulir sebagai accelerator kesetaraan kesejahteraan,jurnal ilmu manajemen, Vol. 12 No 2 april 2015, 29
Asnaini dan Zubaedi, Zakat Produktif dalam Perspektif Hukum Islam, Yogyakarta: Pustaka Pelajar, Cet: 1, 2008
Badan Pusat Statistik Kabupaten Pesisir Selatan, Lengayang Dalam Angka 2018
Data Kantor Camat Kecamatan Lengayang, 19 November 2018
Data Wali Nagari Kecamatan Lengayang, Kantor Camat Lengayang, 19 November 2018
Didin Hafidhuddin, Zakat dalam Perekonomian Modern, Jakarta: Gema Insani Press, 2002
Erlinawati, Motovasi Masyarakat Dalam Membayar Zakat Utnuk Meningkatkan Kesejahteranaan. Iqtishaduna,: Jurnal Ilmiah Ekonomi Kita, Vol 5 No 2, 2016
Fahrur Mu'iz, Zakat A-Z, Irfan syauqi beik, analisis peran zakat dalam mengurangi kemiskinan : studi kasus dompet dhuafa republika, jurnal pemikiran dan gagasan, vol. I, 2009, 3
Jumiati, Eti, and Ifa Faizah Rohmah. "The Role of Trade Unions/Labor Unions in Islamic Economic Perspective." International Journal of Islamic Thought and Humanities 1, no. 2 SE-Articles (September 1, 2022): 91–106. https://doi.org/10.54298/ijith.v1i2.33.
Kemenag RI. Zakat Community Development, model pengembangan zakat. (Jakarta:Kemenag RI.2013),
Muhammad Thohah Hasan, Islam dalam Perspektif Sosio Kultural, Jakarta: LantaboraPress, Cet : III, 2005
Profil KUA Kecamatan Lengayang, 2013.
Sujono, Imam, Yovita Arie Mangesti, and Slamet Suhartono. "THE SELLER'S LIABILITY DUE HIDDEN DEFECTIVE PRODUCTS IN THE ONLINE SELLING AND BUYING TRANSACTION BASE ON UUPK." International Journal of Law Reconstruction 6, no. 2 (2022): 257–77.
Topan, Ali. "EPISTEMOLOGI FIKIH FILANTROPI ISLAM DALAM ZAKAT PROFESI: STUDI FATWA MAJELIS ULAMA INDONESIA NOMOR 3 TAHUN 2003 TENTANG ZAKAT PENGHASILAN." Jurnal Keislaman 5, no. 2 SE-Articles (September 1, 2022): 238–55. https://doi.org/10.54298/jk.v5i2.3591.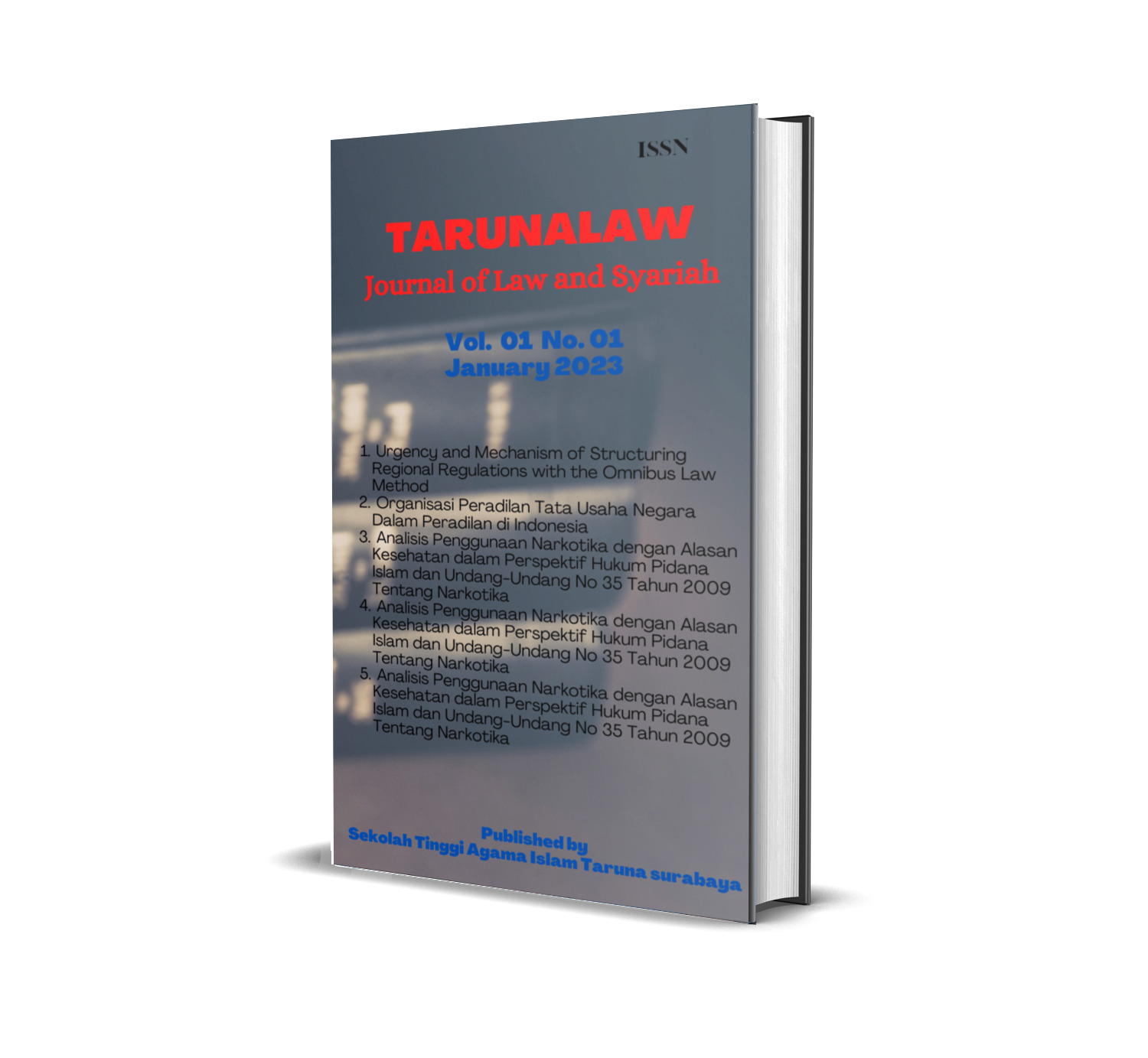 Downloads
How to Cite
Januardi, H., Yulius, Y., & Wahida, H. (2023). Pemahaman Masyarakat Sadar Hukum Membayar Zakat Hasil Usaha. Taruna Law : Journal of Law and Syariah, 1(01), 122–131. https://doi.org/10.54298/tarunalaw.v1i01.85
License
Copyright (c) 2023 Hengki Januardi, Yulius Yulius, Hasanatul Wahida
This work is licensed under a Creative Commons Attribution-ShareAlike 4.0 International License.
Authors who publish with this journal agree to the following terms:
Authors retain copyright and grant the journal right of first publication with the work simultaneously licensed under a Creative Commons Attribution-ShareAlike that allows others to share the work with an acknowledgement of the work's authorship and initial publication in this journal.
Authors are able to enter into separate, additional contractual arrangements for the non-exclusive distribution of the journal's published version of the work (e.g., post it to an institutional repository or publish it in a book), with an acknowledgement of its initial publication in this journal.
Authors are permitted and encouraged to post their work online (e.g., in institutional repositories or on their website) prior to and during the submission process, as it can lead to productive exchanges, as well as earlier and greater citation of published work (See The Effect of Open Access).